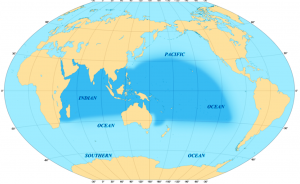 Indonesian archipelago and its adjacent areas have for a long time drawn attention of scientists from different area of interests because of its high biodiversity.Indonesian government has initiated a meeting of six government officers to form what later known as CTI government (Indonesia, Malaysia, Papua New Guinea, Philippines, Solomon Island and Timor Leste). The Coral Triangle Initiative on Coral Reef Biodiversity, Fisheries and Food Security was then launched in 2009 as a multilateral partnership between the six countries. These governments have agreed to adopt CTI regional plan of action to safeguard marine and coastal biological resources of the areas.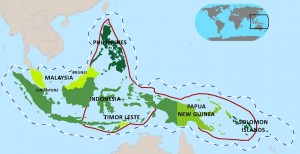 With almost18% of the world'scoral reef, Indonesia is at the center of the Coral Triangle and houses the highest marine biodiversity in the world. This marine biodiversity provides valuable resources and services to support human populations, particularly coastal communities that depend heavily on them, and that the sustainable use of marine living resources will enhance global food security and contribute towards poverty reduction for present and future generations. At the same time, there has been concerned over the degradation of the marine environment, in particular the loss of marine biodiversity, and marine ecosystems continuing to be threatened by land-based and sea-based pollution, alien invasive species, unsustainable use of marine and coastal resources, physical alteration, poor land-use planning, and socio-economic pressures. Within the area, there is a group of islands which is known as Wallacea. Wallacea is the home of numerous endemic species both terrestrial and marine organisms. It is estimated that the area has around 11,400 identified species and there is a high possibility that many are still unidentified. And Sulawesi Island is the largest of these islands, occupying about 53% of the area.
Sam Ratulangi University is situated in the northern part of Sulawesi Island, facing the Pacific Ocean, the area which is in the Coral Triangle. This became the main consideration of establishing an International Master Program within the framework of CTI action plan in Sam Ratulangi University. The program is in line with the vision of the university, to become a first rank, independent and competitive high education institution. Chances of studying marine biodiversity, the reproductive, the various benefit, even loosing of marine biodiversity by different threatened, an alternative of using and conserving the coral reef and its associations will be interesting challenges and be focused of this program.